Keeping Up With the War God
Steven Crook an Englishman, has been writing about Taiwan for various newspapers and magazines since 1996.
Keeping Up With the War God is available at most Caves bookstores islandwide, Lucky Bookstore (Shi-Da), the Sheraton Hotel (on Taipei's Zhongxiao East Road), and at the China Post's on-line bookstore.
This volume received a rave review in the Taipei Times.
Here are a few selections from the book.
Table of Contents
Foreword
Sex, Money and Politics
Treaty Ports
Dead Presidents
Jade Mountain
Deer Harbor
Peikang's Chaotiengong
Tainan
Hell Marriages
Cinema for the Gods
Blood and Ritual
The Unity Way
The East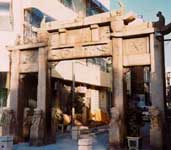 ---